15 Jul 2017
You won't believe how easy getting tailored shirts in Singapore can be – until you hear this
---
You won't believe how easy getting tailored shirts in Singapore can be – until you hear this

A little-known secret that every modern, busy man who wishes to dress dapper must know.
I am about to tell you a true story that will change your mind about tailored shirts in Singapore.
If you believe me, you will discover a rewarding offer at the end of this article.
If you don't, this story will be worth reading for it will change your perception if you think purchasing tailored shirts in Singapore is a hassle.
Let me elaborate.
If you are like most men in Singapore, the shirts that you have in your wardrobe are those that you've bought in stores which offer standard shirt sizes – XS, S, M, L, XL etc.
Those shirts are made based on the dimensions of an average man. The man on the left in the image below is probably how you will look when you wear them.
How standard shirts from standard stores look on you

Air pockets and unwanted spaces - all come with the shirts that you purchase from standard stores
Here's the problem, most of the off-the-shelf shirts have some silly air pockets when you wear them, leaving some unwanted spaces between your stomach and the shirt. As a result, you look awkwardly bloated and puffy, as if you just gained weight (like the man on the left in the photo above).
You can tuck in your shirt, but after some time, the shirt loosens as you walk and your stomach looks flabby yet again.
It's embarrassing, especially for men who are well built. For men who gym a modest amount, those shirts are unflattering and they absolutely don't do your chest and shoulders justice.
There is surely something better – something that fits snugly with your torso and tapers to your waist.
In the past, I used to wear standard size shirts too...
I mean let us face it, we are usually so occupied with our work and we have other priorities to attend to. Who can carve out the extra time and effort to get a shirt tailored after you have bought it from the store?
Not to mention that specialized shops that offer tailoring services in Singapore usually charge quite expensively for their services. The more affordable tailoring services in Singapore, on the other hand, don't always provide reliable tailoring services.
Bear in mind that this is the additional costs incurred on top of the price of the shirt that you just paid for !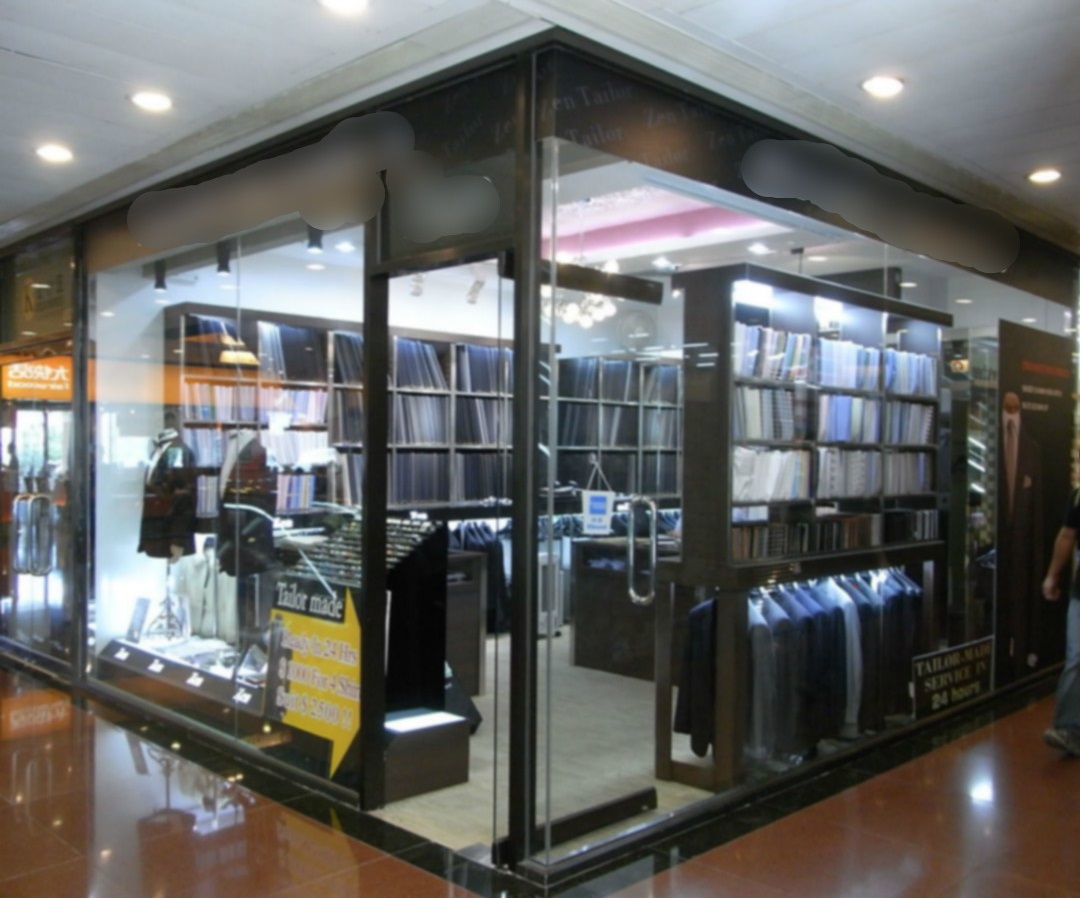 So, we should always resort to buying ready-to-wear business shirts, right?
If you feel the same, then you must read on. This story will change what you think of tailored shirts in Singapore.
---
The truth: Getting a custom made shirt can be easy and wallet-friendly.
In fact, you can do it in under 20 minutes now.
Here's what I discovered when I met my friend the other day
So, one fine day, as usual, I was meeting my friend for ramen at Orchard. But, this time it's different. I saw something noticeably different – his shirt.
"Woah, you look awesome bro. Where did you get your new shirt? It's so unlike how you've always been dressing!" I exclaimed.
My friend, Victor replied, "I know, I felt that my wardrobe was filled with plain and boring shirts and I really wanted a change. So, I decided to purchase a fully tailored shirt in Singapore on this website that I found!"
He showed me the website on his phone. (read on to find out about this website)
What he showed, intrigued me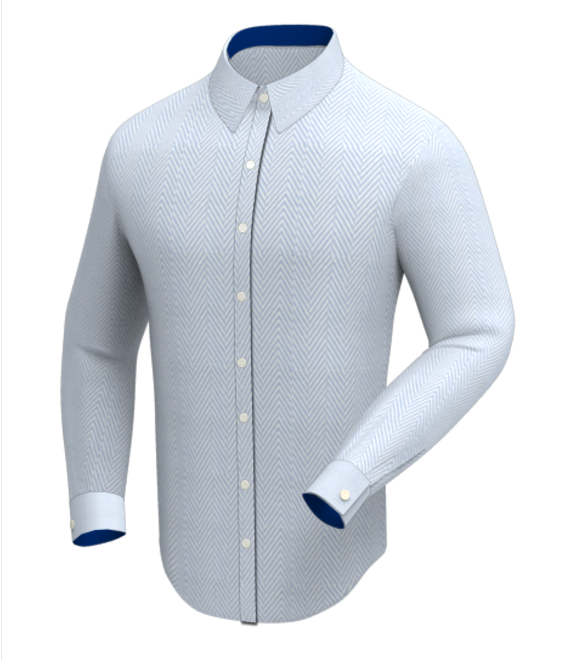 Victor continued, "The amazing part was that this shirt I bought was unlike any others, there are meticulous details to accompany the designs on my custom made shirt. And because it's customizable, every single element on my shirt was chosen based on my preference."
He added, "It's highly personalized. What attracted me most was the inner and outer contrast of the shirt which embellished the shirt with striking colors. That really made my shirt stood out from the rest of them in my wardrobe."
But, wait, here comes the part that will change your perception of buying tailored shirts in Singapore.
How is this online tailoring service different?
Being the boring dresser that I was, I wanted eagerly for a wardrobe makeover. So, when I heard about the good recommendation from my friend, I went to the website (read till the end to find out) that my friend had talked about to place my order. I realized then that what he said was true…
Under 20 minutes of your time
The whole ordering process is online. You can do it in the comfort of your home and it only takes a total estimated time of 20 minutes. Additionally, it is value for money as it did not cost me more than $68.90 for a basic shirt – without other additional elements.
Note: this is non-inclusive of the delivery price or other additional costs. Depending on the elements you choose, the collars or inner contrasts may be 5 SGD for each unique addition.
Reasonable prices
However, they do not overcharge. It is a good balance where the price is not too cheap that they have to compromise on quality and not too expensive such that it becomes financially burdensome on the consumer.
Incredibly comfortable and surprisingly fitting
No more creases, folds or silly air pockets. With my new tailored shirts, gone are my woes about looking bloated. The efforts I put into chest press and bicep curls are showing up in my new shirt. Also, the shirt is not too tight - it's breathable. This is a picture of my friend and I after I bought the new shirt (I'm on the left).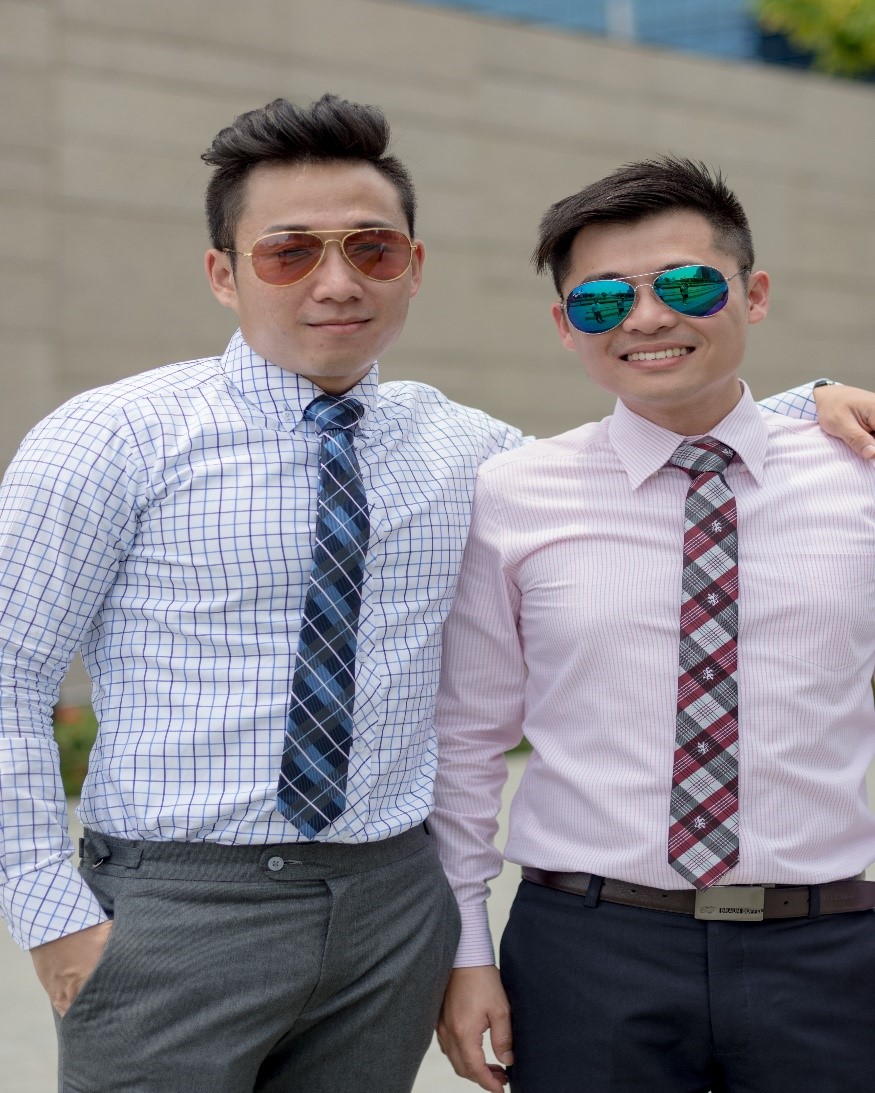 ---
The first fully online, comprehensive tailoring service in Singapore
They are one of the first, if not, the first online tailor in Singapore, that takes the whole ordering process online. This removes the hassle of going down to a traditional Singapore tailor in order to tailor a shirt.
All their tailors are also from Singapore instead of being outsourced, this makes their delivery time significantly lesser as any changes can be rectified almost immediately.
Hiring local tailors also means that the craftsmanship is better than if it were outsourced, as there is better quality control.
You can order it anytime and anywhere with an Internet access. This instantly makes them stand apart from their competitors.
---
4 MAIN STEPS FOR A TAILOR SHIRT

Delivery: The shirt will be delivered to you 10 working days after you've placed your order.
The rewarding offer (limited to the first 20 people only)
As promised earlier in the article, this is the rewarding offer that I'm talking about. Now, they are offering a package: there will be a 10SGD discount for every 2 shirts that you buy.
Input the discount code: Min2pcs
As promised, click the button below to place your order: